Through our ECO-GUARD Sharps Recovery Program, GreenLeaf Environmental Services is eliminating thousands of pounds of plastic waste every year. Each sharps container is transported to our facility, where the sharps are safely and securely removed. Then each container is washed and sanitized before being returned to your facility.
Environmental Impact
The containers are used multiple times keeping thousands of pounds of plastic waste out of our landfills. Studies show a 28% waste reduction with the use of GreenLeaf Environmental Services reusable sharps containers.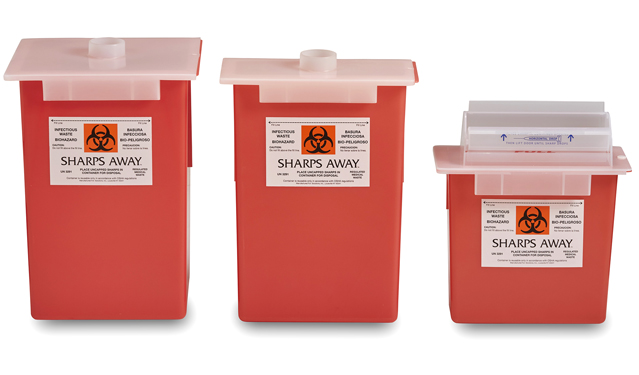 Cost Reduction
You can lower your medical waste costs by eliminating the purchase of disposable sharps containers. Our program eliminates pounds of disposable waste from your red bag waste stream saving you money and our environment at the same time.
This is just another example of how GreenLeaf Environmental Services believes in going above and beyond to help our communities and environment.
Safe Option and Cost Effective
Medical Waste Services offers reusable sharps containers and cabinets. These SharpsAway™ containers are provided thru A Solutions Inc. The containers offer the largest safety disposal on the market.
Along with having reusable wall cabinets/containers we utilize 17 Gallon reusable tubs from Rehrig Health Care. This ensures our hospitals have cost-effective, safe, and space-saving options to fit their large quantity bio-hazardous waste disposal. GreenLeaf Environmental Services offers a variety of size options to meet all of your institutions "red bag waste" needs.